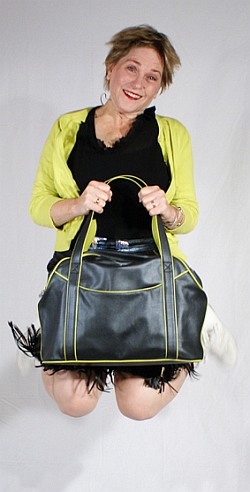 Chinese Nuns taught me to make my own underwear when I was 10. Two years later, while learning to sew with a machine, I landed in the emergency room with a straight pin down my windpipe. Nevertheless I caught the bug. I learned to work with leather in the early 80´s while studying mime in Manhattan. I worked in a custom leather shop and became enamored by this renewable, natural material that exhibits strength, flexibility and durability. I enjoyed all aspects of working with leather, from the smell to the lack of a warp and weave and the tools of the trade: hammers, presses, glue and heavy sewing machines.
I began selling my designs to New York boutiques and department stores. Despite my early success, I held to my intention to become a mime. I moved to North Carolina, began a family and SILENT PARTNERS movement theater company. For 20 years I created and toured theater across the U.S., fulfilling my sewing desires by designing all the costumes, including the bags they lived in.
When I turned 50, I returned to my early passion and launched Hark Designs. I have never carried a bag I did not make. I now get to share my bags with the world!
My designs are inspired by observations of how people move and use objects. Vintage looks and classic western wear pull on my creative heart-strings. Designs often just pop into my head as I contemplate a new need. As a pragmatist I believe things should withstand years of use. I love being able to give bags to friends and relatives for test runs. There is not an item in my collection that has not been well vetted for function durability and style. In 2008 I moved Hark designs to Switzerland, returning to my husband´s home turf.
All my delights are HANDMADE IN SWITZERLAND by yours truly! From my hands to your heart.